My top tips on starting and maintaining a pet sitting side hustle
Pet ownership has steadily grown over the past decades, with numerous reports demonstrating that the pet care market is growing steadily, in spite of the pandemic. The market is rumored to grow at a rate of 5.8% between 2018–2023. Additionally, as per an industry report by Research and Markets:
In USA almost 85 million households have a pet and over the last 30 years, pet ownership has gone from 56% to 68% of all households.
When people talk about side hustle ideas, pet sitting rarely comes up. Yet as people's lives are becoming more and more dynamic, correspondingly services are needed that provide care for pets, while the owners are away on holiday or work assignments. That is where pet sitting comes in.
Consider pet sitting babysitting for pets. You make your own rates and work your hours in your spare time, and if you use a company to host your listing it will take a commission of your fees. It's a really great way to make extra money, but the industry is quite easy to start a business in.
Pet sitting websites typically provide a database of registered users (the pet sitters), who offer their pet care services in a variety of areas that pet owners can choose from. Each pet sitter can create a profile, which consists of photos of themselves (preferably with pets), a description, and their rates and services.
Data shows in 2015, 17 million pet sitting assignments and generated more than $391 million in pet sitting revenues 2015 by members of Pet Sitters International.
There are many reasons why pet owners choose to hire a sitter, instead of sending their pets to a care home or pet hotel temporarily, most commonly it is done to reduce the pet's stress.

How much can you earn
You can earn between £10-£50 ($13-$66) per visit, depending on the type of services included, the pet you are taking care of, your experience, and the client demand and service supply in your area. A typical cat care visit would involve food and water replenishment, litter box cleaning, and a play session, and would not be expected to last more than an hour.
That said, this figure could also drastically rise if you are booked for services such as pet on-boarding, overnight stays, grooming, medicine provision, or long dog walks and training sessions.
My Pet Sitting Journey
I stumbled upon a pet sitting day job one day as I was looking for ways to interact with more animals, while at university in the UK. I really wanted to adopt a dog at that time (still do) but I realized I didn't really have much experience with taking care of dogs, outside of pet sitting for friends a few times. I considered volunteering at a shelter, but sadly all possibilities were not within my range of commuting.
I then found Pawshake and created the following listing: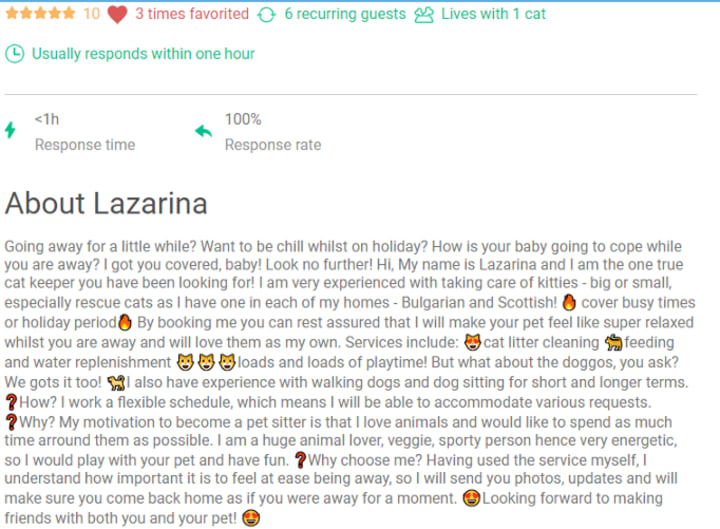 In my family, we had pets when I was little and we also adopted a cat a few years before I went to Uni. A year after I started living in the UK, I adopted a cat on my own, so I had experience with taking care of felines. I used this as a selling point of my profile.
I highlighted my motivations, my key selling points (flexibility, experience with rescue animals, love and affection towards animals), and sprinkled a bit of personality. I made sure I regularly updated my profile with new photos of my furry clients and soon I had plenty of dog and cat petting experience.
How to Create a Good Pet Sitting Ad
If I was just starting again, I would make sure I create a listing at as many sites as are available in my area, and also print out some business cards to put in people's post boxes locally. Feel free to use this as guidance when creating your ad:
Highlight your niche (e.g. cat sitting, dog sitting, dog walking, veterinary experience, experience with behavioral issues, grooming experience, pet photography, etc.)
Highlight your experiences
Give people a reason to choose you (key selling points)
Let your personality shine through
Include photos with pets that you adore or have taken care of
5 Tips on Being a 5-Star Pet Sitter

1. Be honest about what you are and are not comfortable doing.
There is nothing more damaging than making a mistake that could be detrimental to a pet's physical or mental health (or the owner's, for that matter). Once, I went to a meet and greet with an owner, whose cat had FIV (Feline immunodeficiency virus) and had to be given injections regularly. The owner also had two other cats and two ferrets.
I had already listed in my profile that I had not given medications or injections before and was not comfortable doing so, nor I had any experience with ferrets. I politely declined the booking after the visit and recommended a sitter that I had used before and was happy with, who had a background in veterinary medicine. For me, the most important thing was never the money, but providing the best possible care for the animals, which I knew I would not be able to do in this assignment.
2. Send regular photos and updates.
This is crucial to building good relationships with the owners. Nothing is worst than going away for a few days not knowing what your pet is up to, or having to ask your sitter for updates - trust me, it happened to me with the first sitter I booked. For many pet owners, including myself, attachment to their animals is similar to the attachment to any other family member, hence why it is always good to keep them informed as to what exactly happened at each of your visits, including some cute photos of their pets being happy. There is nothing more comforting than seeing that the sitter you have chosen is doing a good job. As you might have noticed, providing photos was also the most common positive feedback in my reviews.
3. Don't be pressured into taking a job.
If you have a gut feeling about the owner, their pets' behavior, or their pets' needs being 'falsely' advertised - don't take the job! Sometimes there are other factors that might intervene with you providing the best care you can, and that is totally understandable, in which case you should just turn down the opportunity politely and recommend another sitter you trust.
4. Choose clients close to where you stay.
Sourcing local clients might not always be possible, but when it is, it is beneficial for decreasing your commute (and travel costs) and optimizing the time you spend with pets.
To find people in your area you can create flyers and put them in the main or go to the local parts, where there are dogs (if you want to do dog sitting), and approach dog owners directly with your services.
You can easily create a social media page and marketing materials to make your service appear as more professional and to start collecting reviews. This can also be a great way to share with the world the animals you are taking care of and the bond you have created with them.
5. Treat the animals you take care of extra special and always go the extra mile.
I always made sure to 'surprise' my clients with special treats or toys (after consulting with their owners, of course). This helped build trust in my services and also created many friendships, outside of the typical client-service-provider relationship. Be genuine and authentic and your efforts will not go unnoticed.
One time, a lady, whose cat I was taking care of returned from a one-month trip with treats and toys for me to take home to my cat, too! Win-win!
Final Thoughts…
I was a pet sitter for over a year, whilst also working as an IT project assistant and attending university. During this time, I gained a lot of clients and many furry friends, working no more than 15 hours per week. This was an awesome side hustle, and a great way to earn more money, while also working in my full-time job and attending uni.
As this was a side gig I did mostly for pleasure, I did not advertise my profile at all, so consider this an extra tip, if you want to generate an ever greater income as a pet sitter. I also found that over time, additional services can very easily be added to my listing, such as watering the plants at the property.
Overall, I loved every second of my experience and would recommend this side gig to anyone, who is genuinely passionate about animals and their welfare.